Vacant shop becomes vaccination site at GrandWest ahead of school holidays
A vacant coffee shop has been transformed into a vaccination site for the public at the GrandWest Casino and Entertainment World.
The vaccination site is open on Wednesdays and Fridays, from 09:00 until 14:00. The vaccination team will extend operational hours during the upcoming school holidays.
Sheriffa Bhorat, Cold Chain Pharmacist for health services in the Northern and Tygerberg District, says through the partnership with GrandWest, healthcare workers aim to make the vaccine more accessible and to meet people where they are.
"Accessibility plays a key role in the strategy to partner with GrandWest. Being more accessible to the community is what we are striving towards to ensure we give our clients the best opportunities to vaccinate and stay safe so that they can live their best lives."
With the school holidays right around the corner, Sheriffa has appealed to parents and youth to visit the vaccination site for their vaccination or booster doses. Johnson and Johnson as well as Pfizer vaccines primary and booster doses are available.
"Vaccinations have been in existence for decades and have helped communities globally to get rid of many life-threatening diseases, such as Polio and Smallpox. The COVID-19 vaccine is no different in helping to eradicate this virus that has already claimed so many lives. Our Ruyterwacht vaccination team will be at GrandWest every Wednesday and Friday for the month of June and July. During the School holidays (27 June-15 July 2022) we will be there on Wednesdays, Thursdays, and Fridays. Operating hours are 09:00 – 14:00. Find our vaccination team between KFC and Wimpy."
Mervyn Naidoo, General Manager at GrandWest Casino and Entertainment World, has encouraged members of the public to visit vaccination site.
"We are delighted to be able to offer space to the Western Cape Government for a vaccination site. When we first opened a site in 2021, in partnership with the Department of Health, we were able to offer vaccinations to not only our staff, but also to their families, our concessionaires, and of course, our local communities. The more convenient the location, the more people will take the jab."
Goodwood resident Cheryl Dreyer, aged 64, received her Pfizer booster dose vaccination at GrandWest.
"I heard about the vaccination site from my friend and decided to get my booster here. I think it's important to get your vaccination and your boosters to protect yourself and your family. If you have children who are aged 12 years and up, bring them along to get their vaccinations too."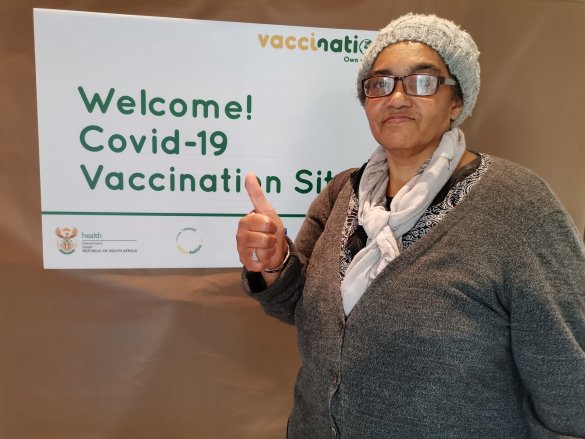 Cheryl Dreyer from Goodwood received her booster dose at GrandWest.
Cheryl Dreyer from Goodwood received her booster dose at GrandWest.
Col 3
Col 4
Col 5
Col 6
Western Cape Government Health and Wellness recognises that the pandemic is not over and thanks the GrandWest Casino and Entertainment World team for their continued partnership and support throughout the vaccination drive. We urge all community members to make use of the opportunity to get vaccinated at GrandWest and other vaccination sites. Local and international data proves that vaccination against COVID-19 remains our best defense to beat this virus. Free vaccinations are available in the Northern and Tygerberg district at the sites listed below. No appointments are required.
Kraaifontein CHC, Cipla Container (Monday – Friday)
Durbanville CDC (Monday, Wednesday and Friday)
Bothasig CDC (Monday – Friday)
Bloekombos Clinic (Fridays)
Brackenfell Clinic (Monday - Friday)
Wallacedene Clinic (Fridays)
Adriaanse Clinic (Monday – Friday)
Delft South Clinic (Monday – Friday)
St. Vincent CDC (Monday- Friday)
Bishop Lavis CDC (Monday – Friday)
Delft CHC (Monday – Friday)
Elsies River CHC (Monday – Friday)
Ruyterwacht CDC (Mondays and Thursdays)
Bellville South (Monday – Friday)
Reed Street CDC (Monday – Friday)
Parow CDC (Monday – Friday)
Symphony Way CDC (Monday – Friday)
Ravensmead CDC (Monday - Friday )
Disa Hall, Tygerberg Hospital campus (Monday – Friday)
Remember, it is still possible to get COVID-19 and spread it to others after being vaccinated, so it is important that we continue to do everything that we can to keep ourselves and others healthy. If you do get COVID-19 after vaccination, you are more likely to have mild or no symptoms than if you hadn't been vaccinated.
The World Health Organisation recommends that we continue to keep a safe distance from others and avoid crowds, wear a well-fitting mask covering our mouth and nose, and keep indoor spaces well ventilated. In addition, we should clean our hands regularly and cover coughs and sneezes.
The pandemic has affected all of our families over the past two years and has had with devastating impacts on our communities. Fortunately, the COVID-19 vaccinations have brought hope and allows us to protect our health system and communities against the virus. Get your vaccination today to protect yourself and your loved ones!
Learn more about vaccination by visiting our website at https://www.westerncape.gov.za/dept/health