You can get your Covid-19 Vaccine and Booster Dose at most health facilities.
Check for active Vaccination Sites: https://sacoronavirus.co.za/active-vaccination-sites
Visit the FindMyJab Vaccine Site Map: Simply type in your address or postal code and this map shows you the nearest vaccine site, opening times and directions: https://findmyjab.co.za 
More info on Facebook @WCGHealthandWellness  and Twitter @WesternCapeGov. 
Please note: Pfizer COVID-19 vaccines are available at certain Western Cape vaccination sites.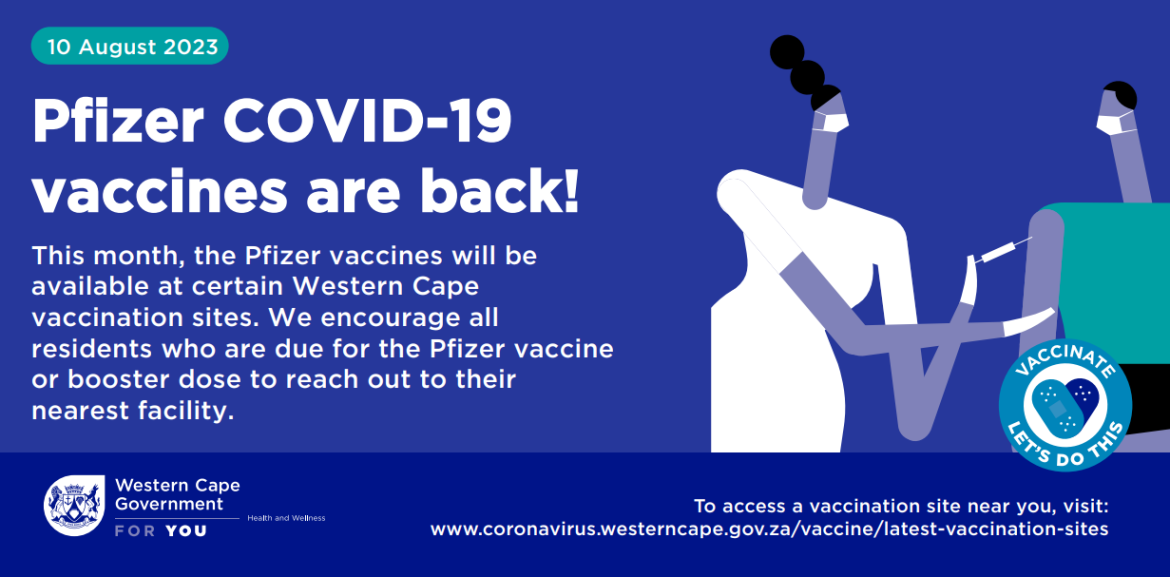 Facilities which offer the Pfizer Covid-19 Vaccine: 
TC Newman GHP
Stellenbosch Provincial Hospital
Du Noon CDC
Maitland CHC
Hout Bay CHC
Ravenmead CHC
District Six CDC
Worcester GSS
False Bay Hospital Pharmacy
Lotus River CHC
Grassy Park CHC
Parowmed Pharmacy
Elsies River
Mfuleni CHC
Kraaifontein CHC
Montague Area Clinic
Goodwood CDC
Ruytermed Pharmacy
Harry Comay Hospital
Bellville CHC
Durbaville CHC
Delft CHC
Bothasig CDC
Lady Michaelis CHC
Hermanus CDC
ODM Caledon
Fisantekraal CDC
Nyanga CHC
Green Point CHC
Oudtshoorn Provincial Hospital
Riversdale Provincial Hospital
Mosselbay Provincial Hospital
Harry Comay Hospital
Knysna Provincial Hospital
Kwanokuthula CDC 
Thembalethu Clinic
We no longer publish Weekly Vaccination Sites.  
Previous Weekly Vaccination Sites:  
COVID-19 Vaccination sites 20 March 2023 - 24 March 2023 
COVID-19 Vaccination sites 13 March 2023  - 17 March 2023
COVID-19 Vaccination sites 6 March 2023 - 10 March 2023
COVID -19 Vaccination sites 27 February 2023 - 3 March 2023 
COVID-19 Vaccination sites 20 February 2023 - 24 February 2023
COVID-19 Vaccination sites 13 February 2023  - 17 February 2023 
COVID-19 Vaccination sites 6 February 2023  - 10 February 2023 
COVID-19 Vaccination sites 30 January 2023 - 3 February 2023 
COVID-19 Vaccination sites 23 January 2023 - 27 January 2023
COVID-19 Vaccination sites 16 January 2023 - 20 January 2023
COVID-19 Vaccination sites 9 January 2023 - 13 January 2023
COVID-19 Vaccination sites 3 January 2023 - 6 January 2023
COVID-19 Vaccination sites 28 December 2022  - 30 December 2022 
COVID- 19 Vaccination sites 19 December 2022   - 23 December 2022
COVID- 19 Vaccination sites 12 December 2022   - 16 December 2022
COVID-19 Vaccination sites 5 December 2022  - 9 December 2022
COVID-19 Vaccination sites 28 November 2022 - 2 December 2022
COVID-19 Vaccination sites 21 November  - 25 November 2022
COVID-19 Vaccination sites 14 November - 18 November 2022
COVID-19 Vaccination sites 7 November  - 11 November 2022
COVID-19 Vaccination sites 31 October  - 4 November 2022
COVID-19 Vaccination sites 24 - 28 October 2022
COVID-19 Vaccination sites 17 - 21 Oct 2022
COVID-19 Vaccination sites 10 October - 14 October 2022
COVID-19 Vaccination sites 3 October - 7 October 2022
COVID-19 Vaccination sites 26 September - 30 September 2022
COVID-19 Vaccination sites 19 September - 23 September 2022
COVID-19 Vaccination sites 12 September - 16 September 2022
COVID-19 Vaccination sites 5 September - 9 September 2022
COVID-19 Vaccination sites 29 August 2022 - 2 September 2022
COVID-19 Vaccination sites 22 August - 26 August 2022
COVID-19 Vaccination sites 15 August - 19 August 2022 
COVID-19 Vaccination sites 8 August - 12 August 2022 
COVID-19 Vaccination sites 1 August - 5 August 2022
COVID-19 Vaccination sites 25 July - 29 July 2022
COVID-19 Vaccination sites 18 July - 22 July 2022
COVID-19 Vaccination sites 11 July - 15 July 2022
COVID-19 Vaccination sites 4 July - 8 July 2022
COVID-19 Vaccination sites 27 June - 1 July 2022
COVID-19 Vaccination sites 20 June  - 26 June 2022
COVID-19 Vaccination sites 13 June - 17 June 2022
COVID-19 Vaccination sites 6 June - 10 June 2022
COVID-19 Vaccination sites 30 May - 3 June 2022
COVID-19 Vaccination sites 23 - 27 May 2022
COVID-19 Vaccination sites 16 - 20 May 2022
COVID-19 Vaccination sites 9 - 13 May 2022
COVID-19 Vaccination sites 2 - 6 May 2022
COVID-19 Vaccination sites 25-30 April 2022
COVID-19 Vaccination sites 19-22 April 2022
COVID-19 Vaccination sites 11-14 April 2022 
COVID-19 Vaccination sites 08-10 April 2022
Get your booster today! #LetsDoThis