Update on the coronavirus by Premier Alan Winde - 25 June
As of 1pm on 25 June, the Western Cape has 15 251 active cases of Covid-19, with a total of 56 345 confirmed cases and 39 475 recoveries.
| | |
| --- | --- |
| Total confirmed Covid-19 cases | 56 345 |
| Total recoveries | 39 475 |
| Total deaths | 1 619 |
| Total active cases (currently infected patients) | 15 251 |
| Tests conducted | 284 064 |
| Hospitalisations | 1 799 with 319 in ICU or high care |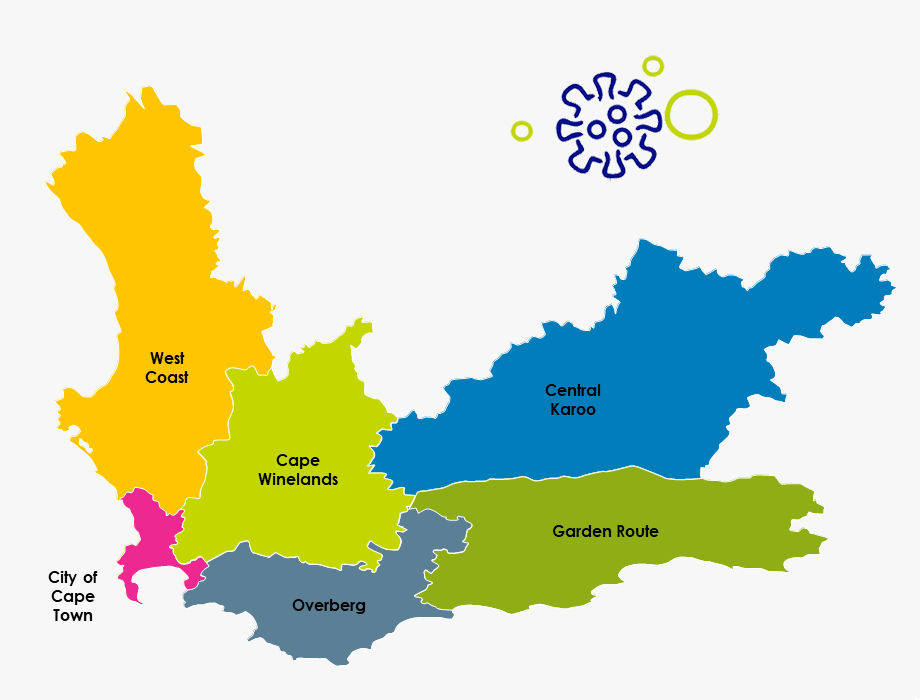 | | | |
| --- | --- | --- |
| Municipality | Cases | Recoveries |
| City of Cape Town |  43 360 | 32 150 |
| Cape Winelands District Municipality |  5 551 |  3 384 |
| Central Karoo District Municipality |  18 |  2 |
| Garden Route District Municipality | 819 | 337 |
| Overberg District Municipality |  950 |  485 |
| West Coast District Municipality |  1 266 | 740 |
| Unallocated | 4 381 | 2 377 |
| Total | 56 345 | 39 475 |
Col 3
Col 4
Col 5
Col 6
 Sub Districts Cape Town Metro: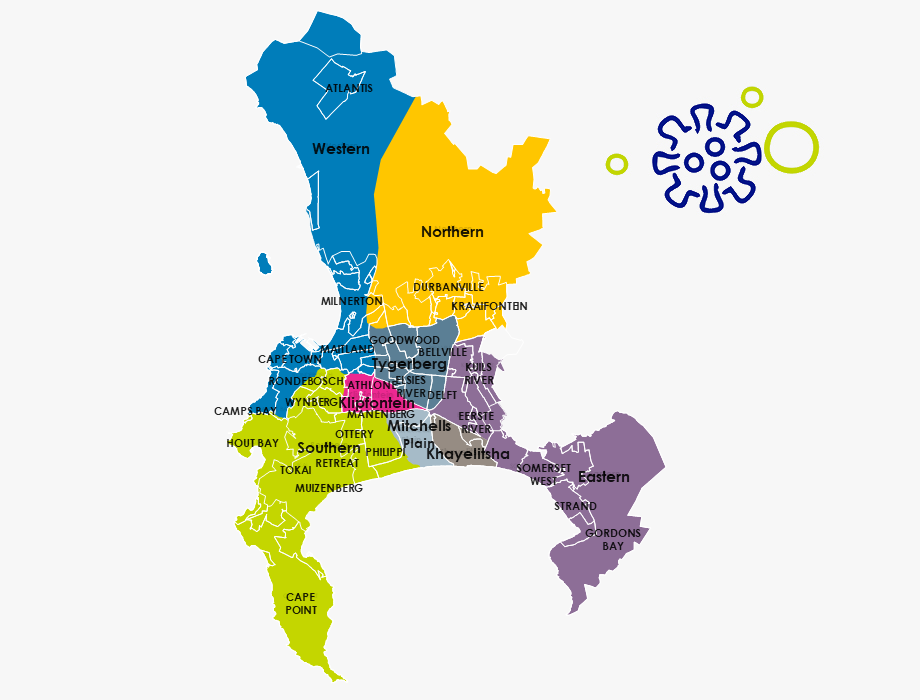 | | | |
| --- | --- | --- |
| Sub-districts | Cases | Recoveries |
| Western | 4 947 |  3 621 |
| Southern |  5 100 |  3 685 |
| Klipfontein |  5 858 |  4 265 |
| Mitchells Plain |  4 957 |  3 629 |
| Tygerberg |  7 582 | 5 730 |
| Khayelitsha | 6 218 | 4 956 |
| Eastern | 5 110 | 3 627 |
| Northern | 3 588 | 2 637 |
Col 3
Col 4
Col 5
Col 6
 Sub Districts Non-Metro: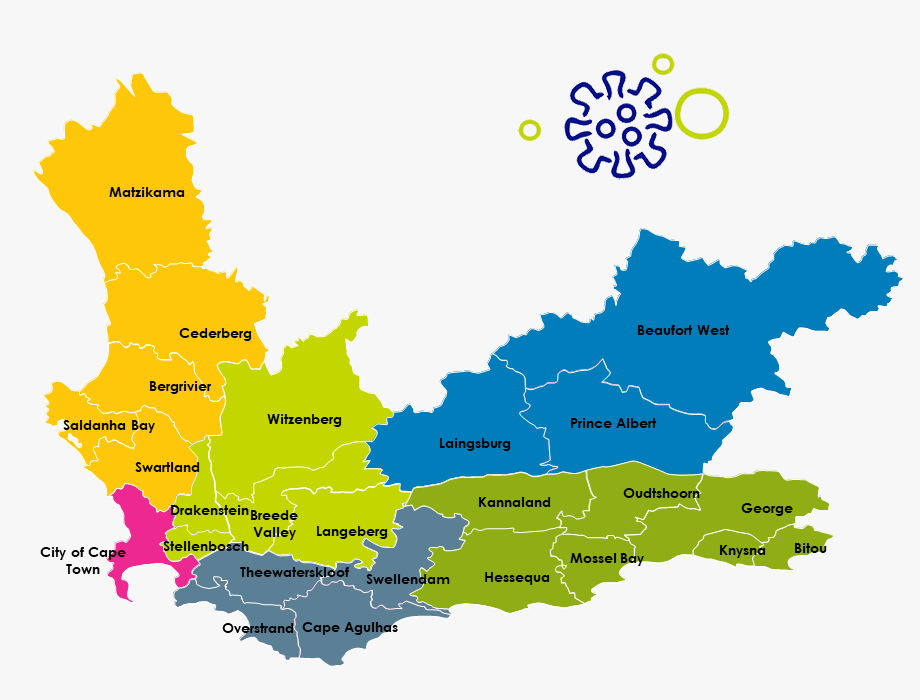 | | | |
| --- | --- | --- |
| Municipality | Cases | Recoveries |
| City of Cape Town | 43 360 | 32 150 |
| Cape Winelands District Municipality | 5 551 | 3 384 |
| Breede Valley | 1 321 | 723 |
| Drakenstein | 2 332 | 1 568 |
| Langeberg | 380 | 136 |
| Stellenbosch | 911 | 555 |
| Witzenberg | 607 | 402 |
| Central Karoo District Municipality | 18 | 2 |
| Beaufort West | 18 | 2 |
| Laingsburg | 0 | 0 |
| Prince Albert | 0 | 0 |
| Garden Route District Municipality | 819 | 337 |
| Bitou | 45 | 17 |
| George | 422 | 144 |
| Hessequa | 22 | 17 |
| Kannaland | 3 | 3 |
| Knysna | 133 | 81 |
| Mossel Bay | 146 | 57 |
| Oudtshoorn | 48 | 18 |
| Overberg District Municipality | 950 | 485 |
| Cape Agulhas | 46 | 27 |
| Overstrand | 509 | 239 |
| Swellendam | 42 | 22 |
| Theewaterskloof | 353 | 197 |
| West Coast District Municipality | 1 266 | 740 |
| Bergriver | 182 | 132 |
| Cederberg | 36 | 10 |
| Matzikama | 46 | 22 |
| Saldanha Bay | 511 | 285 |
| Swartland | 491 | 291 |
| Unallocated | 4 381 | 2 377 |
Col 3
Col 4
Col 5
Col 6
Data note:  As the province moves closer to the peak and the Department of Health is recording over 1 000 new cases daily, it is not possible to check and verify that the address data supplied for each new case is correct, within the time frames required to provide regular and timely updates. This means that in some instances, cases could be allocated to the wrong sub-districts. We are working with the sub-districts to clean and verify the data and where errors are picked up locally, cases will be re-allocated to the correct areas. 
More data is available here: https://coronavirus.westerncape.gov.za/covid-19-dashboard
The Western Cape has recorded an additional 54 deaths, bringing the total number of Covid-19 related deaths in the province to 1619. We send our condolences to their loved ones at this time.
Western Cape Government encourages people to take up comfortable Q and I:
Earlier today, I held a digicon with Minister of Transport and Public Works, Bonginkosi Madikizela and Minister of Health, Nomafrench Mbombo to provide an update on quarantine and isolation facilities in the province.
The Western Cape Department of Transport and Public Works has brought online 3 760 isolation and quarantine facility beds by 24 June. We will soon have 4 766 beds available for residents who are not able to isolate or quarantine at their own homes.
Our approach to activating these facilities is as follows:
All clients with severe symptoms, as well as those at high risk of Covid morbidity and mortality are assessed for the need of hospitalization.
All those who are symptomatic and not requiring hospitalization are currently offered assisted Quarantine (with or without testing). Once the facility is filled, we then move to activate the next facility.
The same process is followed for isolation facilities (for those confirmed to have Covid-19).
This ensures that we are not incurring costs for facilities not in use at any point.
Our strategy has been to proactively identify sites across the province, and to prepare them for activation should the need arise. This can be done quickly, as the demand for these facilities emerges.
However, we are experiencing serious challenges in filling these facilities as residents would rather stay in their own homes. There are currently 1006 people in these facilities. While this is an increase from last month, it represents a 21.11% occupancy rate of those beds that have been made available currently.
Some of the questions that are being asked by people who are unwilling to take up the offer to isolate or quarantine in these facilities are:
Can I bring my own food?
Who will look after my house?
Can I leave to visit my family?
Can I drink alcohol at the facility?
There are also concerns that people will be identified in their communities as having Covid-19 if they make use of these facilities. The fear of discrimination and rejection by communities is therefore an additional concern.
The Western Cape Government is responding to this challenge by mobilizing all sectors and civil society. In line with our existing hotspot strategy, we are adopting context sensitive approaches for each area. This includes:
Communication strategies
Engagement with local community leaders
Public messaging by local personalities, and
Behaviour change strategies
Community health workers, who are respected in their communities, also pursue engagements with households – especially with vulnerable persons at risk.
We have also re-purposed the Western Cape's contact centre to make outbound calls to confirmed cases and contacts of these cases to encourage them to take up these facilities.
The centre has already made hundreds of calls and offers the opportunity to make use of these facilities three times, allowing for a more personal explanation of why it is worthwhile to do so.
This evening, I will be joined by Minister Madikizela on Zibonele FM as part of a series of engagements where we will discuss the benefits of making use of Q&I facilities. This is part of our ramped-up communications to help explain the benefits of Q&I.
I am also pleased that Red Dot Lite transport service is operational, safely transporting residents to these facilities.
My message to you today is to please make use of these facilities if you are unable to do so at home. These facilities are comfortable and safe.
It is understandably a difficult thing to do, and I understand leaving home is tough: but if you do so, you can make sure that you don't spread the virus to anyone else in your home or community.
We need to think of the ones we love right now and make small sacrifices to keep them safe. Let's do it for our grans, aunties and best friends.
To those residents who don't require to isolate or quarantine because you do not have Covid-19 or because you are not a close contact of someone who has Covid-19, be a voice of kindness and support. Praise your friends, colleagues, family members and fellow members of the community who take up this offer.
Be compassionate and caring and reject discrimination when you encounter it. Any person can get infected -we all deserve love during this challenging time.
Modelling and provisioning in the Western Cape
The Western Cape has over 1 700 patients who have tested positive with Covid-19 in hospitals. This includes both public and private facilities. Of this total, over 300 people are in ICU or high care facilities in these hospitals.
This is the highest number of Covid-19 hospitalisations to date, and we are anticipating and planning for a further increase in demand in our services.
The additional capacity provided for by the Hospital of Hope at the CTICC has already provided significant support, recording 230 admissions by 24 June. 176 people have been discharged from this field hospital to date.
Our health care system planning and provisioning is guided by modelling, which is done in conjunction with the National Covid-19 Epi Model consortium, which is the same model used by the National Government.
As a caring and responsible government, we prepare against a range of possible scenarios as guided by this technical work, including those which anticipate limited mitigation of the epidemic.
We believe it would be irresponsible to plan for an optimistic scenario, and we are then not able to provide services to those who need it.
However, I must stress that modelling is never perfect. It is based on a number of assumptions on how the virus might spread through our communities, and who might get infected. We therefore need to continuously re-assess the model by putting in new data from what is happening "on the ground" in our context.
We currently cannot be certain whether we have started approaching our peak or whether it has been pushed out, and we are therefore undertaking an additional calibration of the model using latest data and trends. We will make this new calibration public as soon as it is completed.
Health System Preparation Update:
Testing and Triage Centres
The Western Cape Government continues to open new testing and triage centres across the province.
We currently have 19 of these facilities operational, including 4 facilities outside of the Metro (Paarl, George, Worcester and Ceres).
An additional 15 facilities will be completed by the first week of July, including:
Stellenbosch Hospital
Robertson Hospital
Gustrouw
Kleinvlei
Macassar
Khayelitsha (Site B)
Bothasig
Durbanville
Reed Street
Symphony Way
District Six
Gugulethu
Retreat
Elsies River
Du Noon
Van Guard CHC
Further to this, some 24 testing and triage facilities will be opened in rural areas of the Western Cape, including:
Bella Vista
De Doorns
Klapmuts
Op die Berg
Laingsburg
Nieuveldpark
Sandhills
Asia Park
Crags
Ladismith
Hawston
Kleinmond
Railton
Citrusdal
Diazville
Klawer
Piketberg
Riebeek West and Velddrif Clinics
Beaufort West
Alan Blyth and Harry Comay Hospitals
Slangrivier Satellite Clinic
Hermanus
Field Hospitals:
Our third temporary field hospital at Brackengate is on schedule and is expected to take its first patient on 10 July 2020. The field hospital will have 330 beds and will provide intermediate care.
The Sonstraal Hospital in the Cape Winelands will accommodate approximately 150 beds and will be undertaken in phases. 63 beds will become available in the first week of July.
Fatality Management:
The Western Cape is also making sure it is adequately prepared to manage increased fatalities. A temporary facility for this purpose is being constructed at Tygerberg Hospital and will be completed by first week of July. This is being done in conjunction with the City of Cape Town.
The use of steroids in treatment:
The use of steroids has been approved for use on our clinical platform in line with international recommendations and the MAC recommendations. This will have a positive impact on the clinical outcomes of patients infected with Covid-19. These steroids will be used for ventilated patients and those on high flow nasal oxygen.
The use of oxygen:
Oxygen has shown to have a significantly positive impact on the clinical outcomes of patients, and we are using oxygen in our facilities to manage ill patients.
An oxygen calculator has been developed that facilities can use to access their daily oxygen requirements. We have also adopted a predictive model that shows that our current average consumption is 12 tons a day and at the peak will require approximately 40 tons of oxygen daily. We have engaged with suppliers, and we have been assured of this supply.
Update on Private Sector cooperation:
A Call for Service has been issued to all Licensed Private Hospital Groups to purchase bed capacity in terms of palliative care, general, High Care and ICU. The National Department of Health has negotiated the tariffs and hospital groups have confirmed their commitment, with each nominating their chosen Admin Intermediary. The parties are busy concluding and signing SLAS and addressing operation requirements. The first few patients have been referred and admitted to test the systems.  
Our heroes on the frontline:
I want to again thank every single person in our health system working tirelessly on the frontline. You are heroes and we salute you.
Staffing remains a very real challenge in our health response, because all new facilities need people to make them effective. This is happening at a time when more people are falling ill – as we have seen globally.
We have introduced a number of mitigation steps to address this, including the use of volunteers, bursar nurses and the Cuban doctor contingent.
I also very pleased that our department of health has implemented a training course to upskill nurses in intensive care management. These are skills that can be used beyond the crisis and will be of personal benefit to both the nurses and our communities.
I want to again call on all our residents to join me in celebrating our healthcare workers and other frontline staff. This is a very stressful and anxious time for them as they work tirelessly to save lives. Show your appreciation in whatever way you can – and let them know that the Western Cape is behind them.
Stay Safe. Save Lives.
During this difficult time for our province and country, the most important thing we can do is to keep ourselves safe. When we do this, we slow the spread of the virus, and help protect the ones we love.
I again call on all our residents to play their part in saving lives, by:
​Regularly washing your hands, keeping surfaces clean and coughing or sneezing into a tissue or your arm
Staying home as much as possible, especially if you fall into one of the risk groups
Wearing a clean, cloth mask whenever you leave home
Ensuring that you keep a distance of 1.5 metres between yourself and any other person
Staying home if you are experiencing symptoms or feel unwell
Seek medical attention if you are experiencing shortness of breath