Tygerberg Hospital registrar grateful for colleagues' support during Covid-19 recovery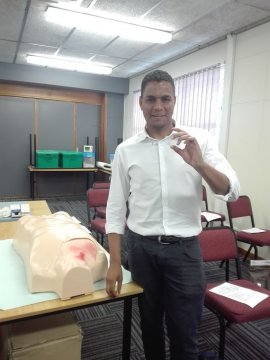 Dr Gideon Titus, an Internal Medicine Registrar at Tygerberg Hospital, is appreciative of the leadership of the Internal Medicine department who regularly called to check up on him while he recovered from Covid-19 at home.
"It is good to be back with my colleagues. I enjoy the comradery and the positive energy within our team," says Gideon, who returned to work two weeks ago. He was diagnosed with Covid-19 on 27 May, which was two days after his swab was taken. The symptoms he experienced was a fever and severe muscle pain. "The muscle pain was quite intense, making it difficult for me to move around. Fortunately, I did not have any respiratory symptoms."
Gideon, who lives in Brackenfell, says the difficulty was knowing that most of the complications started around day eight of the illness, so the lead-up to day eight was stressful. "Working every day with patients with severe Covid-19, I know how life-threatening the symptoms can be, so the unknown was challenging in that initial period. Rationally, while I know that I am young and do not have any co-morbidities, the fear of severe symptoms was still heavy on my mind. Thankfully, my symptoms started improving around day eight, which was a great relief," he says while also thanking his wife who supported him during this period.
He is now motivated to help people and says it is encouraging to see people being discharged healthy when they entered with various acute and chronic medical problems. He is also pleased with the steps taken by the management of the hospital to ensure that appropriate plans are implemented. "The hospital management has closed the outpatient department which takes care of patients with chronic conditions so that healthcare staff have more time to care for acutely ill patients. They have also allowed doctors from other departments (such as radiology or ophthalmology) to join the Internal Medicine staff, which has made a huge impact in sharing the workload," says Gideon.
Gideon encourages his colleagues to continue practising good personal protective equipment (PPE) habits to protect themselves and their families from infection. "I would also tell them to keep up the good work, as their dedication to patient care makes a huge impact," he says proudly.