Groote Schuur Hospital Appreciation Wednesday heroes: Melissa Singh and Wendy Smith
Today's Appreciation Wednesday heroes at Groote Schuur Hospital are pharmacists Melissa Singh and Wendy Smith, who are among 70 employees who work in the pharmacy department. The campaign seeks to give appreciation to ordinary heroes who are inspiring others during the COVID-19 pandemic.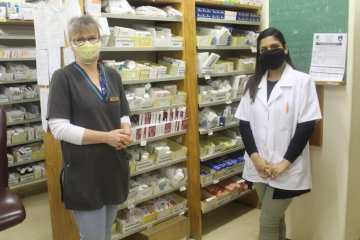 The duo love what they do, and says it is awesome to work with employees who are committed to making a difference in these difficult times. Melissa (34) from Milnerton has worked at the hospital for eight months, while Wendy (49) from Kirstenhof boasts 26 years of employment service. As pharmacists, their essential duties include making sure patients get the correct medication. This includes dispensing of medication to inpatients as well as outpatients. They also interact with other professionals regarding queries for patients, and to guide interns is a vital role being performed by the pharmacists.
The pandemic has forced many pharmacists to be more flexible, and to come out of their comfort zones. "The department has been forced to become virtual in terms of getting scripts to patients in COVID wards. Cellphones with WhatsApp have been used to get patient scripts and then delivering the scripts to patients in the COVID wards. This increased the paper trail for these patients and forced pharmacists to be more flexible and come up with ways to serve COVID patients better. All this has to be done while still serving the other non-COVID patients. The big lesson learned is that the pharmacy needs a e-dispensing programme," Melissa and Wendy explain.
For Melissa, she is inspired to help people every day, which she finds fulfilling. "Every day is a new learning experience and that is exciting." Wendy also loves her job and making a difference in her profession makes her happy.
In terms of the way that the hospital management has accommodated their needs, they agree that management had pressures to deal with and have done their best in these stressful times. "With the resources, they have made minor changes, and this was done to consider the bigger picture. We as staff feel safe, and emotionally, we have also been included in courses to help us deal with any issues. There has been a lot of fear of COVID-19, but management has teams to come into our area to talk to us about COVID-19 and made sure we had all the PPE [personal protective equipment] we needed."
Melissa and Wendy encourage everyone to practise social distancing and wear your masks, not just at work, as your family and friends can also have COVID-19.