Frequently asked questions on how you can help

There are many ways that each of us can play our part, not only in stopping the spread of Covid-19, but also helping each other through this challenging time.
Now, more than ever, we need to be kind and considerate to our family, friends and strangers, and we encourage everyone to share the love.
Post your photos and ideas of how we can all share the love on social media with #ShareTheLove.
Looking after others
Kindness is an incredibly powerful way to show that we are united in stopping the spread of Covid-19. There are many ways that you can show a little kindness to your loved ones and neighbours during the lockdown:
1. Check in on older people or those vulnerable over the phone to make sure they have everything they need.
2. Talk to your friends and loves ones over the phone to see how they are and if they need support.
3. If you are going out to buy essential goods, offer to purchase and drop off essential goods, like food and medication, to those living en-route of your trip. Be sure to drop the goods at the door, and practice social distancing to stop the spread of Covid-19.
Support local businesses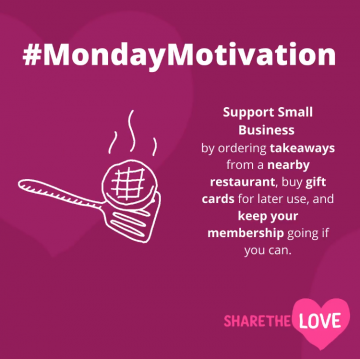 Order takeaways from a nearby restaurant that has opened under Alert Level 4 or buy gift cards for later use.
Websites like Save Your Local and Voucher Plan also offer opportunities for you to support local businesses.
And, if you can, keep your memberships going to help sustain businesses.
Support Ladles of Love
Ladles of Love is an example of the great work being done by so many people living in the Western Cape to help each other through the Covid-19 crisis.
Since the nation-wide lockdown was implemented and more people find themselves in need of food relief, this organisation has massively stepped up their operation to meet the demand.
Ladles of Love is an organisation that is doing a great job of sharing the love, and you can share the love by supporting them, or any charity in your community.
Want to help? Visit their website to find out more: www.ladlesoflove.org.za
Provide a mask to those in need
To partner in the Ubuntu Mask public-private initiative or to donate, please contact Harry Grainger, CEO: The Health Foundation, at harry@thehealthfoundation.org.za or 072 613 3719.
Donate essential goods to those in need
We are partnering with The South African Red Cross Society (SARCS) to distribute essential goods to those in need during the lockdown.
While doing your shopping for essential goods, purchase a few extra essential goods for those in need and put them in the Red Cross Donation Trolley at your local grocery store.
Red Cross will collect all donated items and ensure they are delivered to their network of NGOs who are helping those in need during the lockdown.
Food items that are needed:
Beans; bread and cake flour; bread; carrots; cooking oil; corned beef; instant coffee; long-life milk; maize meal; mix fruit jam; oats; onions; peanut butter; pilchards in tomato; potatoes; rice; salt; samp; yeast; soup powder; soya mince; pasta; sugar; sugar beans; tea and tinned food.
Non-food items that are needed:
soap, black bags, hand sanitiser, sanitary pads, toothpaste, toothbrush, shampoo, washing powder, disinfectant for house and surfaces, plastic gloves, nappies, baby food, baby milk formula, rash cream, teething gel, sterilising fluid (eg: Miltons), toilet paper.
Donate money to our charity partners
You can donate money directly to our charity partners:
The South African Red Cross Society (SARCS)
South African National Zakah Foundation
Donate to the Solidarity Fund
You can donate money directly to the Solidarity Fund which was established by National Government as a means for individuals and organisations to directly support government's efforts to stop the spread of Covid-19 through secure, tax-deductible donations.
The Fund will operate with the highest principles of corporate governance and through an independent Board. All activities will be reported in a transparent manner.
For more info visit www.solidarityfund.co.za
Volunteer as a health professional
The Western Cape Department of Health is calling on skilled health professionals residing in the province and beyond the borders of the province, to volunteer and assist in the fight to stop the spread of COVID-19, in the Western Cape.
This Covid-19 pandemic along with the pre-existing burden of disease are placing our facilities under tremendous pressure. In line with the country-wide recruitment drive, we require all hands on deck to ensure that there is enough capacity in the province to deal with the anticipated rise in the number of people testing positive for Covid-19, in need of medical care.
Volunteer doctors, nurses and emergency medical service personnel who are NOT employees of the Department can help mitigate the additional pressures Covid-19 will be placing on our services, over the coming weeks and months.
We call on all available health professionals to take up this opportunity to make a meaningful contribution and to assist in our response to this pandemic.
Those interested in adding their support can register on the Covid-19 Volunteer Recruitment website: www.westerncape.gov.za/department-of-health/volunteer-recruitment-questionaire